Monument Dedicated June 6th 2004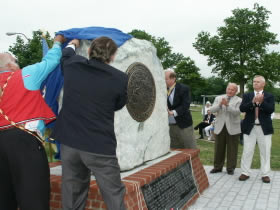 Monument Inscription
COMMEMORATING THE PIONEERING ROLE OF THE SWEDES AND FINNS NEW SWEDEN, THE FIRST PERMANENT EUROPEAN COLONY IN THE DELAWARE VALLEY WAS FOUNDED IN 1638, AT FORT CHRISTINA, NOW WILMINGTON, DELAWARE. PEACEFUL RELATIONSHIPS WITH THE LENAPE INDIANS MADE POSSIBLE THE ACQUISTION OF LAND, INCLUDING PRESENT DAY SALEM COUNTY, NEW JERSEY. FORT ELFSBORG WAS ERECTED ABOUT 12 MILES SOUTH OF HERE IN 1643. SWEDISH AND FINNISH FARMERS, FISHERMEN AND CRAFTSMEN SETTLED THIS AREA AND BUILT LOG CABINS. THEY NAVIGATED THE WATERWAYS IN CANOES, PLANK BOATS AND FERRIES TO MANAGE COMMERCE AND ATTEND CHURCHES ON THE WEST BANK. THESE SETTLERS HELPED TO BUILD AND DEDICATE HOLY TRINITY CHURCH IN 1699 AT WILMINGTON, TRINITY CHURCH IN 1705 AT SWEDESBORO AND ST. GEORGE'S CHURCH IN THIS COMMUNITY IN 1717. THEY SERVED IN THE MILITIA, WERE INDIAN INTERPRETERS, WERE LEGISLATORS AND CONSTRUCTED ROADS THAT FOLLOWED INDIAN TRAILS. THESE COURAGEOUS MEN, WOMEN AND THEIR DESCENDANTS CONTRIBUTED TO THE DEVELOPMENT OF THE DELAWARE VALLEY, STATE OF NEW JERSEY AND THE FOUNDATION OF AMERICA .
-COMPILED BY MARGARET SOOY BRIDWELL
More pictures of the dedication ceremony can be found at http://vikingship.org/gallery/album03?page=1
Sponsors for the New Sweden Heritage Monument
Pennsville Township Historical Society
Genealogical Society of Salem County
Women's Club of Pennsville
Swedish Women's Educational Association of N. J.
Finnish-American Society of the Delaware Valley
New Sweden Centre
Swedish Colonial Society
Delaware Swedish Colonial Society
Vasa District Lodge NJ #6
Delaware Valley Finnish Americans
Delaware River and Bay Authority
Mannington Mills, Inc.
J. G. Cook's Riverview Inn
Pennsville National Bank
Massari Service Co. LLC
Penn-Md Quarry
Contractor: Michael Bianco
Rock Sculptor: Daniel Gantenbein
Bronze Sculptor: Aleasa Hogate
Plus numerous individual contributors and volunteer help
For additional information or to make a pledge of support to this project, please write to:
Aleasa Hogate
94 Sparks Avenue
Pennsville, NJ 08070
Or call (856) 678-5511
or e-mail to:
goaleasa@aol.com