Video Guide, Educational Seminars & Donations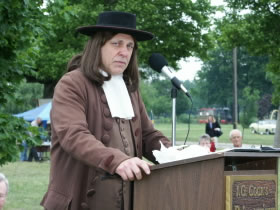 New Sweden Video Guide
For a "Life in New Sweden Video and Guide" , please send check or money order for $20 to address below.
FILMS AND PROGRAMS AVAILABLE BY RESERVATION:
BLACK AND WHITE SILENT 1941 ARCHIVAL MOVIE OF ANDERS BONDERSON BUILDING THIS HISTORICAL CHURCH-BOAT, MADE AVAILABLE BY THE NORDIC MUSEUM FOR EDUCATIONALPROGRAMS. THIS FILM WAS ALSO USED BY BUTCH BOUIVER AS A GUIDE TO BUILD THE REPLICA OF THE 1941 RATTVIK CHURCH BOAT MODEL.
FIRST PERSON MONOLOG PROGRAM OF ELISABETH DALBO, ONE OF NEW SWEDEN'S FIRST SETTLERS
For additional information or to make a pledge of support to this project, please write to:
Aleasa Hogate
94 Sparks Avenue
Pennsville, NJ 08070
Or call (856) 678-5511
or e-mail to:

goaleasa@aol.com